Throwing Lincoln into a New Era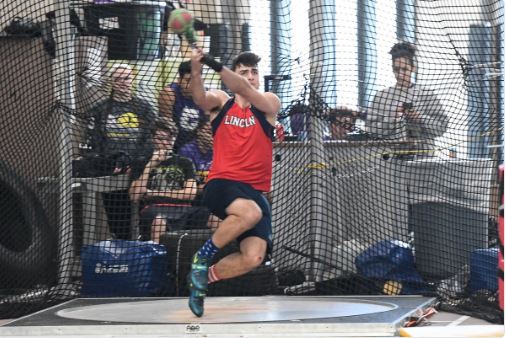 Many LHS athletes have gone on to play sports at the college level, particularly for baseball, football, softball, track, lacrosse, and field hockey. But only a few of them have enjoyed a national ranking and then moved to a D1 school. When there is a student with an impressive national profile, he or she can go to college vitrually anywhere. This year, Garrett Doyle, who will be choosing where he wishes to spend his next four years, is currently ranked second in the nation for the hammer throw for his age group.
A hammer is a 12-pound metal ball connected to a yard-long piece of aluminum that is thrown onto the field. It sounds simple- spinning in a circle and throwing a ball. However, it is much harder in practice. Rhode Island is one of the few, maybe only, states that hammer throw is legal. All other states consider it too dangerous. With proper safety precautions, however, 99 percent of injuries can be avoided.
The then: 5'10", 165-pound freshman, Doyle was drawn to track. He always strived to be able to throw the hammer farther than anybody else. With constant practice, and a lot of growing, the now 6'5", 225-pound senior is one of the best at this craft. "I really was never good at track until the end of my sophomore year," said Doyle. Since then, he has only improved. He currently throws more than 220-pound-plus in hammer, 50 plus in shot, 160 plus in discus, and 150 plus in javelin. All of those, except Javelin, qualify for the National High School Meet in North Carolina.
Doyle has at the top in every weight event he has competed in this winter, at meets including Yale, Dartmouth, RI Classic, New Balance, the Melrose Games, and the Classical Classic. These meets not only include Rhode Island's best ,but also the best throwers from New England.
This success does not come easily. Doyle practices from 2 to 5 p.m. every day, practicing both throwing and lifting. He can squat 565 pounds and bench 225 pounds. These numbers have propelled him to be the best at what he does. Doyle is also known to be able to keep up with some of the best sprinters in the state and can dunk on a 10 foot hoop with ease. All and all, Doyle has evolved into an athletic juggernaut.
Doyle is currently following in the footsteps of many of LHS' great throwers such as Giovanni Gray, Samantha Andrews and Maggie Tarmey, who now throw hammer for Northeastern, URI, and Leahigh University, respectively. Doyle currently has offers from many colleges, including URI, Arizona, Maryland, Purdue, and Ohio State. Ohio State even flew him out and paid for his hotel so he could visit the campus. He was offered a free Macbook, free tickets to sporting event, $2,000 in Ohio State gear, and a partial scholarship from the college, as well.
Through all of his successes, he continues to thank one person: Brian Grant.
"He taught me everything I know," comments Doyle. Without Grant, there is no Doyle. Without Grant, there is just tall lanky kid with a lot of potential. Grant tapped into that potential and made Doyle who he is today. If anything, that proves the value of truly great coaching. It is the ability to tap into what someone has and make them what they were always meet to be. In Doyle's case, Grant helped him become the best thrower that Lincoln have ever seen. As spring track is now starting up, he hopes to now cement this fact in the minds of everyone.`