Go to Prom in Duct Tape and other ways to earn thousands in scholarships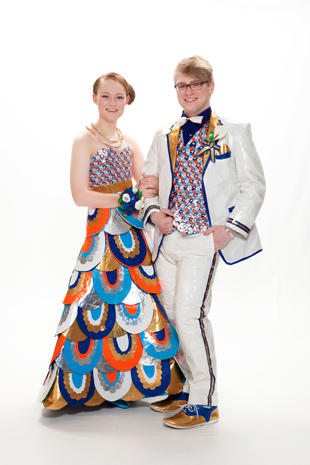 College scholarships aren't just for people with high GPAs and great SAT scores. Some scholarship awarding organizations have decided to divert away from the trend of rewarding academic achievement, and instead offer scholarships based on unique talents, unorthodox interests, creativity, or just unusual circumstances. There are some scholarships that range from simply unique, to quirky, to downright bizarre, but all of them are worth applying for if you meet the requirements. Any scholarship you receive now, will decrease your college payments later.
According to Yes College, one of the strangest scholarships available right now is "Stuck At Prom" DUCK brand scholarship. This is a unique opportunity for high school students to get creative. In this years contest, there will be two grand prize winners that will be granted $10.000 in scholarship money. There will be one dress and one tuxedo winner, as well as four winners in each of the categories that win $100.
Students can make an extravagant dress or tuxedo made out of strictly duct tape. Shoes can be decorated, bow ties, belts, clutches, corsages, boutonnieres, and flowers can all be made with duct tape for an increased chance of winning. All you have to do is state how many rolls of duct tape was used, how many hours it took to make, and send in a photo and you are entered to win. If you have a hidden talent of duck calling, this scholarship is for you! The Chick & Sophie Major Memorial Scholarship Duck Calling Contest is open to any high school senior in the United States who can call ducks. During its 38-year history, the renowned contest has awarded more than $60,000 in scholarships to young duck callers attending 32 different colleges and universities in 13 different states. This year, the competition will be held on November 25 and is held by the Stuttgart Chamber of Commerce in Stuttgart, Arkansas. The scholarships can be used to further their education in any field.
Each contestant must follow the rules ordained by the World's Championship Duck Calling Contest. They have 90 seconds to use four calls: hail, feed, comeback, and mating. Best of all there is absolutely no entry fee for this contest. First place wins a scholarship of $2,000, second place wins $1,000, 3rd receives $750, and 4th receives $500.
If you are a fan of sweets, you should definitely apply for this scholarship called "The Flavor of the Month." You have the chance to receive $1,500 for simply creating an ice cream flavor that seems delicious to you and one that you would want to be able to purchase in stores. After coming up with a unique flavor, you need to go into detail on how the ice cream flavor best reflects your personality and why. If you were an ice cream flavor, what would you be?
There are also many writing scholarships if you are more creative on paper than art projects. Based on the popular zombie show "The Walking Dead," there is a scholarship that is offered to high school students where the winner with the best story receives $2,000. The prompt is, "Imagine that your high school or college has been overrun with zombies. Your math professor, the cafeteria ladies, and even your best friend have all joined the walking dead. Flesh out a plan to avoid the zombies, including where you'd hide and the top-five things you'd bring to stay alive." This allows you to use your creativity and imagination, creating your own scenario.
Lincoln High School junior, Joel Mitri adds her opinion on weird scholarships saying "I think it is a great idea to apply to as many scholarships as possible. Even if they are a little strange, it will make them more enjoyable to complete. After all, it is less money I will have to pay when I am done with college!"
Some students assume that scholarships are primarily designed for students who are in dire need of financial assistance. This is not the case. In fact, winning a scholarship will be beneficial to any student for several years following their receipt of the award. If you are on the fence about applying for scholarships and unwilling to commit your time to the process, choose one of these fun scholarships that will surely take your mind off the stress of college.