The Blizzard of '78: Forty Years Later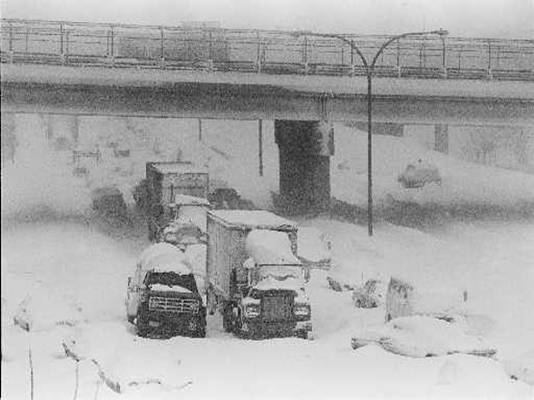 Forty years ago, the blizzard of '78 hit Southern New England. The first snowflake fell in the early morning of February 6th in Rhode Island. Children were already in school and adults were on their way to work. Before they knew it, it was snowing two to three inches an hour.
In Providence, it was reported up to three feet of snow had blanketed Rhode Island. In Lincoln, five-foot drifts stranded residents. The storm lasted for a total of thirty-six hours, but both Providence and Boston recorded after twenty-four hours, there was twenty-seven inches of snow on the ground. Most highways became parking lots for cars as it became more and more difficult to drive.
With people getting stuck on the road and the snow piling up over their tail pipes, the unlucky few who remained in their cars died of carbon monoxide poisoning. The wind sped up in Chatham, Massachusetts, seeing speeds of ninety-three miles per hour. The blizzard fell during a new moon, resulting in a high tide of up to four feet and wind gusts that added an additional twelve feet. Eventually the winds started to slow down but Rhode Island, Massachusetts and Connecticut all called a state of emergency and asked the national guard to help clear the snow. This snow storm also caused the states to shut down for a week.
Mr. Desrosiers, a teacher here at Lincoln High School, experienced the blizzard firsthand when he was driving from Providence to Manville, where his residence was at the time. He stated that Manville experienced it's largest snowfall in history at fifty-eight inches. Driving from Providence to Manville, a drive that should have taken twenty to thirty minutes, took him almost five hours. He had to drive through fields to get home, for driving on the road was not an option, seeing as no one knew where they were to begin with. All the cars stuck on the road prevented plows from being able to clear them so people had to wait for roads to clear on their own.
Contrary to most people's outlook on the situation, Desrosiers found being in the blizzard to actually be fun; he called it "something unique" to be in the blizzard. Driving home consisted of him getting out of the car to look at the snow and assist in moving his own car so he would be able to drive. Considering how dangerous the roads were, it was necessary that he was able to drive as best as possible. Luckily for him, Mr. Desrosiers at that time had a Jeep with a four-wheel drive which he said was very helpful.
Since the storm was a week before February vacation, the students at school that year had two weeks off instead of their usual one week vacation. The storm had started on the first Monday of February and didn't stop until Wednesday evening.
There are so many stories of strangers helping strangers, since most adults in Lincoln remember the blizzard very vividly. One of the places Mr. Desrosiers visited was a restaurant that was giving all their food away for free to whoever came in during the time of the storm. He felt as if there were no longer strangers there, as everyone was trying to help each other during these difficult times. Days after the storm, people would see others walking down the road stopping to ask if they needed a ride even though they didn't know each other.
Trying to get food became a problem hence why to this day, people consider the blizzard of '78 as one of the reasons why when we are about to experience snow, people flood stores and grocery markets. For several days after the blizzard there was no bread or milk, something people are eager to stock up on now before a storm.
LHS Social Studies teacher Mr. Frank Yip was a senior at Bishop Hendricken High School at the time of the blizzard. When the blizzard had started, Mr. Yip was in school, where they had let their students leave at 10 a.m. At the time Hendricken had two campuses, and Mr. Yip was at the campus off the main campus. He had to drive to the main campus to pick up his brother and they did not get home until 12:30 p.m. As soon as Mr. Yip had gotten home, his grandmother told him that he had to go and pick up his mother since she had also left work early. He did not get back home with his mother until almost 3 p.m..
Mr. Yip's father also had his fair share of problems when he had left at 12 noon to go take his daughter to a dentist appointment in Westerly. His mother was upset that his father even tried to take his daughter to that dentist appointment, for obvious reasons. As his father was driving home, a police officer had told him it would be better if he got out of his car and finished getting home by walking. His father did not get out of the car and drove all the way home, arriving around 8 p.m..
The storm had finally stopped by Wednesday evening. Mr. Yip went walking around his neighborhood once the storm had finally stopped. He went from walking on Thurbers Avenue in Providence to making his way onto Route 95. During his walk, he walked past a bar called Bill's Wonder Bar. He remembers hearing the sound of glass shattering coming from the bar. People had been stuck in their houses for three days, so they went down to the bar to get out of their houses to have a good time.
While he was walking around he noticed all the cars piled up on the highway and roads, snow covering everything, up to 8 feet high. Basically, it was a ghost town. During his walk, as he looked at the mess, he wondered how his father managed to get home safely, a feat seemingly nothing short of a miracle.