The Life of a Quarterback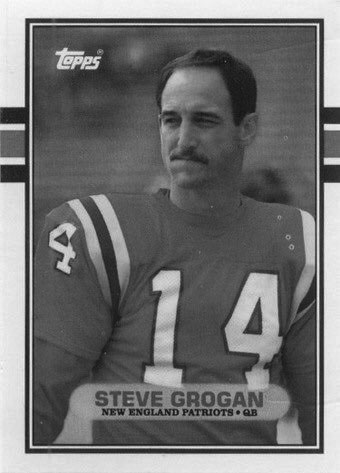 Playing quarterback is the toughest position, at any level, on any football team or program. A quarterback must be focused, be able to problem solve, and make quick decisions in the fraction of a second that can determine the game. Off the field, they must be leaders, they must be the rock that holds the team together, they must be the most influential and important player on the team.
Steve Grogan, former New England Patriots quarterback from 1975-1990, believes to be a successful quarterback, you must be smart, play a leadership role, and be able to throw the ball.
The quarterback position has changed dramatically since Grogan played.
Grogan was a very run-oriented quarterback, as that was the style of the position back then, they used to be much more physical. Today, quarterbacks are more protected and they throw the ball twice as much than they did in Grogan's days.
A quarterback in the NFL goes through a lot of physical tasks. The first being the training camp, the practices before each season that prepares the players for the upcoming months of hard football. Grogan describes these training camps as being long and physical. They would hit twice a day, one in the morning and one in the afternoon, "Approach every training camp like you've got to perform to keep your job, there's always somebody that's trying to take your job away from you," he said.
Today, they have limited pad workouts, and they aren't as tough as they were back in the day, but they are still brutal and a physical and mental test.
A huge change is in nutrition: today players are watching what they eat, some even being vegetarian, but back then, they didn't care. Grogan states that they "pretty much ate what we wanted to eat…we used to have the secretary, when I first got to the Patriots in the mid-70s, we used to have the coach's secretary take orders for a hamburger and French fries".
After the training camp, the meals, and preparing, are the games, where a quarterback demonstrates their true skills and proves themselves on the gridiron. When the game first starts, Grogan said, you have to feel that you are prepared and that you can take the opposing defense on with confidence, "you've prepared all week to try to get things into your mind that you can just instinctively do without having to think too much, as far as making the throw, making the read, knowing where the receivers are supposed to be, can't always consciously think about that you just have to know that that's where they're going to be and how you have to deliver the ball." Above: A Steve Grogan trading card from the 1970s. Photo courtesy of mainlineautographs.com. Grogan playing a game. Photo courtesy of lifeofdad.com. A quarterback must adapt to changes, they must be able to make the best decisions in order to help their team perform and win. "It's all about adjustments," he said, "every week you're adjusting to a new defense, and they may get a book on you and how you like to throw, or what plays the coach is going to be calling for you at certain situations and you just got to self-scout, during the week and during the season to make sure that you're not doing things that are going to tip them off."
These adjustments start in the huddle, changing a game plan that can help gain more yards on the next play and reach a first down and move the chains. Grogan describes the huddle as a well-focused situation. The quarterback should be the only one talking and they must instill confidence while doing so to motivate the players around them to succeed.
After the regular season, comes the Super Bowl. Grogan played in the 1986 Super Bowl against the Chicago Bears, he came on as a substitute in the second quarter for then starter Tony Eason. They lost 46-10. However, Grogan talks about how great of an experience it was: "The week leading up to it was a great experience, pretty exciting knowing that you were going to play in the Super Bowl and going to be watched by millions of people around the world."
Grogan played in the NFL for 16 years, so many memorable moments that there isn't enough room to fit into just one article. But, Grogan recalls his most memorable moment as "a game against the Buffalo Bills in 1985, I've been on the bench for over a year as a backup, it was the first game my five year old son had come to, Tony Eason who was starting, got hurt, I came off the bench, we came from behind and won the game and it kind of made me realize I still have the ability to play as a starter, and it also made me realize how happy I was to have my son there able to watch it."
Grogan has three sons, his oldest wanted to be just like Dad and play football. He played at Northeastern and played professional indoor football and then semi-pro football for 10 years, his other two sons decided not to play football.
Looking back on his career, Grogan believes that he wouldn't change much about his career. "Coming out of Kansas State I was a fifth round draft pick," he said. "Nobody really expected me to be here. I wound up playing for 16 years, had some ups and downs, but for the most part it was ups. I just was thrilled to be able to do something I love to do for that many years. (I) never expected that to happen when I first showed up here."
Grogan's advice for young quarterbacks is to "enjoy their experience, football does not last forever, for some people it's high school only, the others gets to play in college, and some are fortunate enough to play at the next level, professionally. Just enjoy every bit of it, work as hard as you can every day in practice and always do the best you can and if that's not good enough then you have nothing to hang your head about.".
It is advice well taken. Lincoln High School quarterback Randall Hein has so far lead the Lion to a 1-1 record on the season with a most recent win over Ponagansett 55-20. He was named this week's Athlete of the Week in the Woonsocket Call.
Hien said, "Being a quarterback at high school is not easy, there is a lot on my plate. Constantly studying the playbook, watching film on opponents, remembering each different position's role for each play, memorizing hand signals from the coach, and being able to read a defense and decide what to do with the ball are not easy to do at once."
Even at the high school level, there is a lot of pressure on quarterbacks as it is easily the most important position on the field. They are the general, the leader, the pilot, the leader. The life of a quarterback is challenging, tough, full of adversity, and sometimes, rewarding.