Should Yawkey Way be Renamed?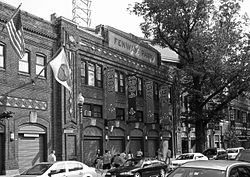 On September 13, the Boston Red Sox lost to the Oakland Athletics 7 to 3. But that wasn't the main story involving the Red Sox that night.
During the fourth inning of the game, four fans sitting in the Green Monster unfurled a sign that they hung over Fenway's famous left field wall. What did the sign say?
"RACISM IS AS AMERICAN AS BASEBALL."
Quite a powerful statement to make. Originally, the statement was thought to be made by ANTIFA's local Boston chapter. However, it was later revealed that the Twitter account that claimed responsibility for the sign was actually fake. The fake Twitter account later tweeted out:
"Now, a question to you: Baseball is racist. Do you support racism?"
In modern baseball, that's quite untrue. Among the Red Sox's starting lineup that night were four players of Latino heritage, three white players, and two black players. However, the Red Sox haven't always been so integrated, and a reminder of that lies behind Fenway Park's third base line…
In 1933, the Boston Red Sox were a floundering organization. After infamously trading Babe Ruth to the New York Yankees in 1919, the Red Sox spent the better part of the 20s in the American League's cellar. However, in 1933, a man would take ownership of the Red Sox and lead them throughout the next 44 years. His name?
Tom Yawkey. Yawkey Way. Photo courtesy of Wikimedia Commons (Bernard Gagnon). While he owned the Red Sox, Yawkey was a hero in Boston. After all, any owner could be better than Harry Frazee, who sold players to fund his musicals. However, in recent years, Yawkey has been vilified by many members of the Boston community for one reason- he was a serious racist.
Before the then-Brooklyn Dodgers signed Jackie Robinson, the Red Sox had their chance. According to the Boston Globe, the Red Sox reluctantly held a tryout in 1945 for Robinson and two other Negro League stars- Marvin Williams and Sam Jethroe. As the players finished up, a voice from the stands yelled "Get those n***** off the field!"
Reportedly, the voice belonged to Yawkey.
Needless to say, the Red Sox did not sign Jackie Robinson, and he would make them regret that, having a stellar career with the Dodgers. Similarly, Yawkey refused to sign Willie Mays, who would end up becoming a Baseball Hall of Famer. According to the Globe, Mays would later tell Ted Williams, "We should have played together." In fact, Yawkey refused to sign a black player until 1959, when he signed Pumpsie Green. By that time, every other team in MLB was integrated.
After Tom Yawkey's death, the city of Boston renamed the street outside of Fenway Park on the third-base side Yawkey Way. It remains Yawkey Way to this day.
Even after integrating, the Red Sox have still had racial problems. Earlier this year, fans called Baltimore Orioles center fielder Adam Jones the N-word and threw peanuts at him. According to USA Today, Jones responded by saying "It's unfortunate that people need to resort to these epithets to degrade another human being." The fan who threw the bag of peanuts at Jones has been suspended from attending Red Sox games for life.
However, Jones felt that punishment wasn't harsh enough, saying "It's pathetic. What they need to do is that instead of kicking him out of the stadium, they need to fine them 10 grand, 20 grand, 30 grand. Something that really hurts somebody."
According to Boston.com, two nights later a Kenyan woman sang the national anthem. Following the anthem, a fan called her the N-word and berated her. When fellow Sox fan Calvin Hennick confronted him about it, the fan said he did call the anthem singer a racial slur and "he stood by it." Hennick, who was attending the game with his Haitian father-in-law, told Red Sox staff about it and the racist fan was banned for life.
The history of the Red Sox has been dark and shameful. However, to his credit, current Red Sox owner John Henry has not tried to hide the shameful or offensive moments of the Red Sox's past, telling the Boston Herald that he is "still haunted by what went on here a long time before [he] arrived."
The Red Sox have apologized for the actions of previous owners, but in today's world, that's not enough. Sox brass and the city of Boston need to take the extra step.
Yawkey Way must be renamed.
John Henry has already talked to the city of Boston about doing so. Now, Yawkey Way wasn't named Yawkey Way in celebration of Tom Yawkey's racism. But over the years, that's what the road has come to mean.
Furthermore, Tom Yawkey is the biggest loser in Red Sox history, sabotaging the team between 1945, when Negro League players were first allowed to try out for MLB teams, until 1959, when he finally integrated the Red Sox. Nobody who knows their baseball history can reasonably claim that an outfield of Ted Williams, Willie Mays, and Dom DiMaggio wouldn't have gone down as one of the best in baseball history. Williams and DiMaggio would have been perfectly fine with sharing an outfield with Mays, too. Both were thinkers ahead of their time, and Williams in particular became good friends with Mays despite not being on the same team. And that would have happened too, as according to Boston.com, former Red Sox scout George Digby arranged to have Mays signed. Yawkey was his only opposition. By refusing to sign Willie Mays, Tom Yawkey almost definitely cost the Red Sox multiple championships. So why should the Red Sox honor him with a street?
There are plenty of more deserving candidates to rename Yawkey Way after. Henry personally nominated David Ortiz, who led the Red Sox to three championships and is a beloved figure in the Boston community. Williams' name has popped up in conversations a lot as well. So have Carl Yastrzemski and Pedro Martinez. All of these players have gone down in Red Sox history as beloved greats, and all four of them certainly would be deserving of having Yawkey Way renamed after them.
The sport of baseball itself is not racist, and there will always be fans like the one who threw peanuts at Adam Jones of every major professional team in every sport. However, Yawkey Way honors one of the worst parts of baseball history. And until the name of the street is changed, there will be a very large stain on the Boston Red Sox- and MLB's reputation.