Are Teachers and Administrators Always in Danger?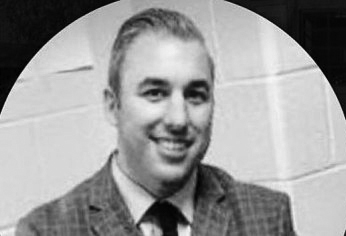 Bellingham High School Principal Lucas Giguere. Photo courtesy of his personal Twitter account. Thursday, November 16 was none less than terrifying at the home of Bellingham High School Principal, Lucas A. Giguere. A homemade explosive device, possibly a pipe bomb exploded beneath his Jeep parked in his driveway at 6:15 P.M. Left uninjured, Giguere remains horrified and confused, not knowing who did such a horrible crime.
Giguere's father, Oliver, lives next door to his son was watching television like any normal day as the sound of a bomb went off. Oliver was quoted by the Boston Globe stating "It wasn't like a firecracker, It was a good hit. You could feel it." Being a Vietnam War Veterans, "We know the sounds" of explosions, Olivier Giguere said of himself and his neighbor. "You could tell it was no joke"
Lucas Giguere came home from school early Thursday to his home where he lives alone after not feeling well. Oliver claimed to the Globe that he did not see any suspicious actions in his neighborhood or around his son's vehicle before the bomb went off. Lucas Giguere was not able to be reached for comment Friday. Lucas went to work as scheduled the following day, however his mind certainly was not straight.
According to the Boston Globe, Bellingham School Superintendent Peter D. Marano said police were deployed outside the high school Friday. Bellingham police said there was an "open investigation" and would not comment any further.
With no arrests so far, the investigation is still ongoing. Blackstone Police Chief Ross. Atstupenas told the Globe that the bomb was homemade and that investigators, including the State Police bomb squad and the federal Bureau of Alcohol, Tobacco, Firearms and Explosives, recovered evidence from the scene and the Jeep. Atstupenas seeked help from the community asking anyone who saw or heard anything on Lakeshore Drive to call police.
Maurice Dubeau, a neighbor of Lucas, told the Globe "He was terrified because of what has just happened to his vehicle, he said he never expected anyone would do that to his vehicle. He was very controlled, and he immediately called the police."
Many students of Bellingham High School made statements showing full respect and support of their principal, stating they have no clue who would ever do that to him.
Although the creator of the bomb is unknown, assumptions and horrific thoughts of a student committing such a crime are possible. Gering High School of Nevada went through a scary situation before school, a student attempted to assault a staff member. According to scanner traffic, the teen was armed with a knife. The Gering Police Department released that the 16-year-old boy was arrested about two blocks from the high school on charges of terroristic threats and use of a deadly weapon.
In an even scarier case in 2013, a teenager who raped and killed his high school math teacher was sentenced to life in prison with eligibility for parole in 40 years of his imprisonment. Philip Chism was 14 when he followed his teacher, Colleen Ritzer, who was 24, into a school bathroom, strangled her, stabbed her at least 16 times and raped her. Yeah yeah that's
Although these situations are extreme, teachers are often vulnerable to dangers within their job. Although it may seem unrealistic, you never know what can happen.
"Any workplace environment, the larger and type of work you do, can expose you to different threats,"
LHS Principal Kevin McNamara said when asked to comment. "However, what happened in Blackstone is very extreme. I think people, whether it's a doctor in hospital, an attorney in family court, teachers and administrators, everyone needs to take proper awareness wherever they are."