Undefeated Lions Face EWG in Semi Finals At Home Tonight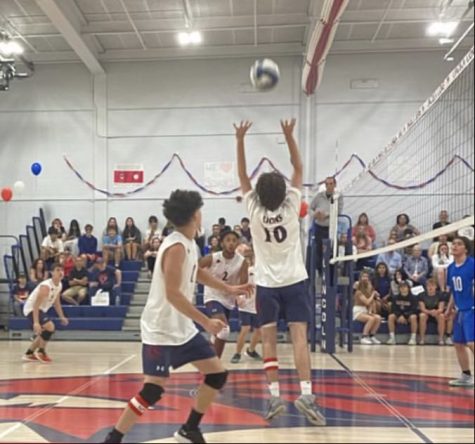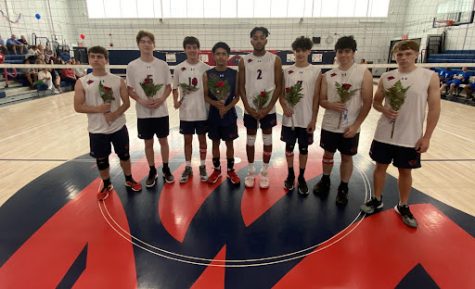 Throughout the history of their existence the fight of a Lion has been feared, but none more than the performance the Lincoln Lions volleyball team put together. For the first time in school history, LHS put together a 16-0 regular season. The team was led by seniors Jacob Murray, Elaijah Cardoso, Julien Crique, Steve Fisher, Jordan Furtado, Ashton Armes, Justin Lourenco, and Damien Terrizzi. At the start of the season, the Lions added some exciting juniors to the front line including 6'9 Tyler Dickinson and 6'4 Will Denio. From week one, the team had high expectations but none as high as this. 
"Going into the season we had a lot of new players, myself included, and we weren't sure how our talents would match up against other teams," said junior Will Denio. "I knew we had the potential and talent, but I didn't think we would be undefeated and competing for a championship."
Even with reasonable doubt from their players, the fight and pride of the Lions propelled them to victory. During the course of the season, the Lions not only didn't lose a game, but also only lost three sets throughout the whole course of the season. Though Lincoln is a D3 volleyball program, this dominating regular season has proved the Lions have a shot of being repositioned into a more competitive division. This past week Lincoln played in two scrimmages against Mount Saint Charles and Barrington, which are both D2 high school programs. These scrimmages were designed for a competitive simulation of the playoff week to come.
 The Lion's semi-finals home game is scheduled to play tonight, at 6:00 pm. The match will be against EWG High School, which was one of the two teams to hand Lincoln a set loss. If LHS pulls off yet another victory, the championship game for D3 is Saturday (06/11). Good luck to our Lincoln Lions and congratulations on all you've achieved this regular season.