Gigi Steps Away From LHS and Into a New Phase In Her Career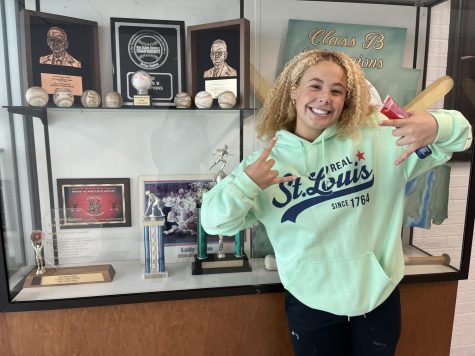 One of our very own athletic superstars, Ylime "Gigi" Torres, is sadly leaving our school. Buoying our talented softball team with her amazing abilities on the mound in the 2022 season earned Gigi endless accolades and appreciation. However, for a number of reasons, she is leaving LHS in early November and heading back to her family home in Puerto Rico.
     After slugging 0.878 with a batting average of .515 and 3 home runs from the plate, along with a 3.91 ERA on the bump, Torres is gaining national attention for her efforts as a Lion, including multiple big-time college offers from some of the top programs around the country.
     "I'm leaving not only to prioritize myself and my mental health," Torres said, "but also to continue my softball career So, I'll be in Puerto Rico on November the 6.  I'm excited about it, we have a house there already so it is not like I haven't been there, and I also have a lot of family there as well."
     While we will all be sad that she is leaving us, she says that she has "always had the dream to play Division 1 College Softball in the US." and that coming back to the states to play college softball is "definitely an option on my plate." 
     Last season the softball team went 9-9 in Division 2 B, with an overall placement of 5th in the division, and a record overall of 10-12. Lincoln competed against the likes of a 16-2 East Greenwich and a 15-4 Toll Gate, as well as other top talents throughout the division. Torres herself had the 4th best batting average in the state behind a trio of East Greenwich girls, was tied for 2nd in the state in Home Runs, ranked 4th in slugging, and 4th in On Base Percentage. While the team will miss its star, they continue to build, having high hopes for being one of the better teams in the state this season. 
     Torres is assuredly heading toward an amazig college career, but her focus right now is on her mental health, which she said was "spiraling out of control." She says that one of the main reasons for that is her busy schedule, having to make room for everything that she has to do as a teenager on top of constant travel, busy schedules and being a future athletic superstar in her sport.
     "I was always looking to put the next foot forward, always practicing and improving myself, but my outside life is very packed, not having time for myself, prioritizing to others and the game that I played." The stressful lifestyle is taking a toll on her she said, and a fresh start with people that she holds dear to her heart could be the boost that she needs to get back on track.
     "People don't understand how harsh mental health can be when it gets tough," she said, "so I had to continue growing as both an athlete and a person.  This decision I believe will help me with this goal." 
     While LHS will sorely miss our star pitcher, we will not forget about the hard work that she puts into her academics, her kindness to others, and her dedication to the team, even during the offseason. All the hard work is paying off, as she has plenty of options for what she wants to do in her future, specifically with relating to college softball. She mentions some schools in states like Florida, California, Virginia, Texas, and Alabama have contacted her with the interest of adding her to their programs roster, along with many others.
     Where she chooses to go is completely up to her, but to us, she will always be a Lincoln Lion.