How Ed Cooley's upbringing made him the man he is today
Providence College men's basketball coach Ed Cooley has made a name for himself while at Providence. In 11 years, Cooley has brought the Friars to March Madness six times, making the Sweet Sixteen this past season. Cooley's hard work in the coaching office was finally recognized in the last year, winning Big East and National Coach of the Year. What fans may not recognize is how Cooley's upbringing brought him to where he is today.
During a visit to Lincoln High School, Cooley himself asked the question, "How did your upbringing contribute to your success?". For Cooley, his youth was not one of glory, but of survival. Cooley described his struggles with an analogy, telling students to quit the lifestyle of a complainer and to go make a change instead of being dormant. The renowned coach recalled going home some days and opening the refrigerator to nothing but the lightbulb in the top corner. At the spot Cooley is at now, he has learned to never complain because life now has drastically improved from his previous microcosm. Such a rise from poverty in Providence has led Cooley to become the humble teacher he is today.
Before Cooley became the first black basketball head coach in Providence history, he needed an assist in another aspect of life; learning. Cooley attended Stonehill College in Massachusetts, but even college did not come free. Cooley received low scores multiple times on the SATs but rebounded to get a higher score and attend college for four years. While there, Cooley continued to work. He detailed having to go to school on Saturdays, along with several weeks in the summer, just to earn his degree. Cooley graduated in 1994, earning a Bachelor's degree.
Cooley went into coaching in 1994, jumping between four colleges as an assistant coach. Starting at Umass-Dartmouth, Cooley returned to Stonehill before going to URI. After spending nearly a decade as an assistant coach at Boston College, Cooley finally got a shot at being the top dog at Fairfield. The Stags improved in all five of Cooley's seasons; ending with a 25-8 record in his final season. Cooley accepted a job opportunity to coach the Friars shortly after, and the rest is history.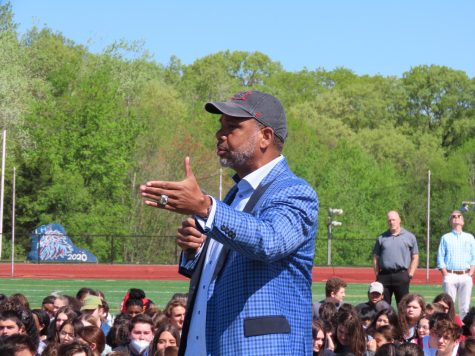 Photo by Lucy Kratman