Faculty Fast Talk: The Grammas Twins
Best friends, twin sisters, colleagues and freshman class advisors, Eleni Grammas and Nicole Grammas are teachers in LHS's  science and math departments respectively.  Both agreed to meet with us to revive our favorite Lion's Roar feature of the past:  Faculty Fast Talk.
Dunkin or Starbucks?
NG: Starbucks, one thousand percent.
EG: Starbucks always. 
Most essential beauty product?
NG: Mascara
EG: My Dyson Airwrap
What made you want to be a teacher?
NG: I love the subject of science and I also always loved to teach.
EG: I always knew I wanted to be a teacher since I was little. I used to like play school when I was younger and then I took a child development course in high school which kind of like opened my eyes if I wanted to teach little ones or older, and adults.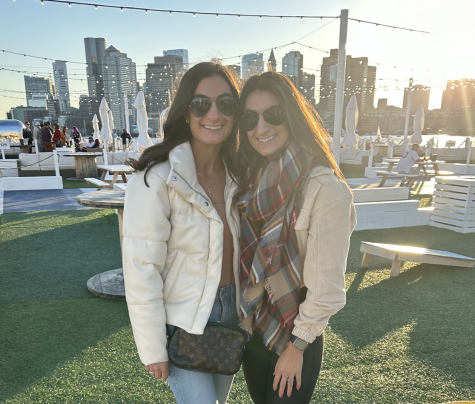 What's the best way to start a day?
NG: Cup of coffee in the morning.
EG: Starting my day with an iced coffee.
Dark Chocolate, milk, chocolate, or white chocolate?
NG: I only eat dark chocolate.
EG: Always dark chocolate.
Biggest pet peeve?
NG: Oh, Heavy breathing I just can't stand the noise.
EG: My pet peeve is coins. I don't touch them, I have an irrationalf fear of them. If I'm at a drive through it's like "keep the change" or someone else has to get it for me.
Summer or winter?
NG: Summer
EG: Always the summer because I love the beach and the heat.
Secret talent? 
NG: I have this like weird ability to see someone's face and then match them to like a movie character that ive seen before. 
EG: I can do a headstand for a very long amount of time.
What quote do you live by?
NG: Probably, "live life to the fullest".
EG: "Everyone you will ever meet knows something you don't" So I view it as i'm learning something from every person that I meet.
What takes up most of your free time?
NG: Schoolwork
EG: I'm a Pure Barre instructor, so I teach fitness classes three times a week Monday and Thursday, and I also teach on Saturday.
What time is your alarm set for in the morning?
NG: Depends, between 5 to 5:30am.
EG: Depends if I'm washing my hair,  so 5:15 if i'm washing my hair, 5:30 if i'm not washing my hair.
 What's your favorite vacation spot?
NG: Aruba
EG: Aruba
When getting ready in the morning what comes first, hair or makeup?  
NG: Hair 
EG: Same thing, If my hair is wet, makeup first, if my hair is dry, then it's makeup after I blow dry my hair.