Chris Bove Can Get There From Here
A visually impaired student helps RIPTA to better serve the blind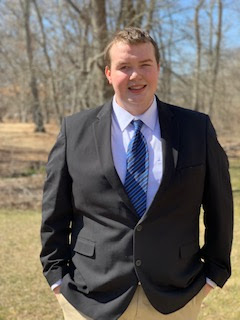 An overlooked issue in the world seems to be the public transportation accommodations and accessibility for those with disabilities. There are programs in Rhode Island like RIDE under the RIPTA (Rhode Island Public Transit Authority) company that offers $4 per way of a trip and door-to-door service rather than using public bus stops. This para-transit service is offered because of the Americans With Disabilities Act (ADA); the RIDE program operates within three-quarters of a mile of a "fixed route" (RIPTA) and is available during the same hours as the regular RIDE program.
In order to schedule rides and trips, you can go on the website or call the number to the RIDE service depending on what is easiest or more available. Because it is a door-to-door service, there are no same-day rides available. However, once you schedule your trip you will receive a window of time at which the driver will arrive (usually about twenty minutes).
In early September, Christopher Bove of Middletown, RI, who is legally blind, was left waiting for his driver on Sunday night of September 2. He had scheduled his trip for 10 p.m. a day ahead as the website advises, but 15 minutes after he was supposed to get picked up, his ride had disappeared from the system.
After calling the after-hours office of RIPTA, Bove was told to wait while they tried to reach his driver. However, after 10 minutes, he decided to call the office again. The second time, according to the Newport Daily News, Bove was told that the driver was " off-line. And that they "have no idea where they are, or how to contact them."
The earliest RIPTA could make a ride available for Christopher was at 11:45 p.m. In addition, he was told that he would be on the bus for two hours, making his arrival time in Warwick at about 2 a.m.
Bove was so moved by the experience that he decided to speak up for countless numbers of disabled residents who must rely on public transportation. He is currently working with District 12 State Senator Louis DiPalma of Middletown and RIPTA official to improve services to the disabled. Issues being addressed involve improvement in communications and expansion of office hours to accommodate riders who are looking for solutions to their transportation challenges.
According to the American Association of People with Disabilities, "Of the nearly 2 million people with disabilities who never leave their homes, 560,000 never leave home because of transportation difficulties."
Bove's contributions can help Rhode Island improve services to everyone with disabilities and increase opportunities for leading more independent and fulfilling lives by increasing confidence in public transportation. Transportation systems allow people with disabilities more opportunities for education, work, and overall more potential for community participation which is crucial when it comes to living a "normal" life. Without RIDE, those with disabilities are left grappling with the high cost of privately companies, or making themselves vulnerable to an imperfect system which makes potentially makes them vulnerable to miscommunications, discrimination and worse.
As of now, anyone within three-quarters of a mile of a RIDE route on either side is eligible to participate and ride in the program, but that excludes places outside of that service area. Even though Rhode Island does have this program into place, its reach is limited.
Incidents like Christopher Bove's most likely happen more often than most realize. In the smallest state of the union, Rhode Island must offer service for everyone, disabilities or not.