Food for Thought: Why is the school lunch program no longer free?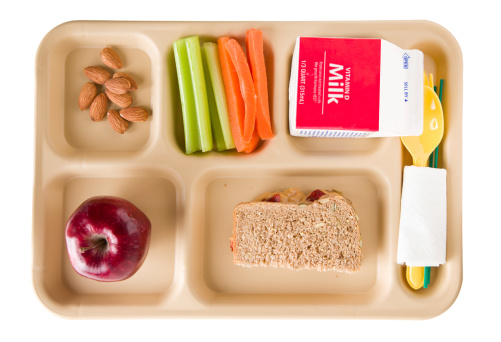 March 2020 was a pivotal month in history. The coronavirus had shut down the country. The price of gas fell and the price of toilet paper soared. The Dow Jones Industrial Average fell by over 2,000 points in a single day. The world was panicking with the spread of a virus nobody could predict or understand. Schools were closed indefinitely, first for two weeks, then for two months, lasting nearly two years. This spelled disaster for the families that depended on these schools, not only for the education they provided, but for the school breakfast and lunch program. Without it, millions of kids in low-income families would starve. 
That's when Congress stepped in, passing the Families First Coronavirus Response Act. It authorized the United States Department of Agriculture (USDA) to waive the 40 cent cost from school lunches. Supply chain issues were not a concern; that same bill allocated $3 billion to farmers to produce a surplus of dairy products. It was a never-before-seen method of food distribution. 
And guess what? It worked.
In 2020, the National School Lunch Program (NSLP) served 3.2 billion meals, 76.9% of which were served for free, or at a reduced price. And during the 2021 school year, the first full year of the pandemic, that figure jumped to 98.9%. The NSLP provided a reliable and free source of food for kids, and a glimmer of hope in an otherwise stressful time for parents.
So why did it stop?
Reported cases of COVID-19 had been experiencing a decline in 2022, and it seemed that the worst was over. Everybody wanted to go back to normal, back to the lives we led before 2020. This was apparent in Congress, too. In March of 2022, two years after the Families First Act was passed, Congress declined to extend the USDA's authority to waive the school lunch requirements for another year. 
The USDA's authority to give free lunches to all students was eliminated for one obvious reason, cost. Cost wasn't an issue when billions in government funds were allocated to the School Lunch Program, but once COVID-19 was no longer a threat in the public eye, the USDA's spending was just too high to be sustainable. The USDA's reported budget in the 2021 Fiscal Year was a record high $182.5 billion, a 43% increase of the previous high of $127.5 billion in 2020. Of that $182.5 billion, $26.8 billion was spent on child nutrition programs, like the NSLP. For reference, the Justice Department has a 2023 budget of $25 billion. It's plain to see why that system could have gotten the ax. 
But just because there's a good reason why the program was eliminated does not mean that it was right to do so. That program was a lifeline for millions of families during the most difficult years of this generation. And while it was a costly system, it worked. It fed millions and prevented our nation's youth from suffering at the hands of the coronavirus. The United States Government can make room in its budget to bring back this program. In some states, like California, school lunches have been made free for all students. 
It took a national public health crisis to get Congress to standardize free school lunches. It shouldn't take another one to make sure they stay.