An Underdog Story for Scottie Scheffler
Christopher Cooke, Lion's Roar Staff
Throughout the history of the Masters golf tournament, there has been a long list of great golf talents both young and old. Tiger Woods and John Daly are some of the more commonly known. In this year's masters there was a new face taking over the stage, Scottie Scheffler. At just 25 years old, Scheffler punched his ticket to only his third career Masters. With few prior major tournament wins, Scheffler came in with a chip on shoulder hoping to prove all doubters wrong and show off his talents at a young age. In his career prior to the Masters, he held just three major tournament wins with two being in the current 2021-22 season. These include the Arnold Palmer Invitational presented by Mastercard and the World Golf Championships-Dell Technologies Match Play.
     In Scottie Scheffler's first two Masters he finished tied for 19th in 2020 and tied for 18th in 2021. Going into the 2022 Masters tournament, he was given +1800 odds to come in first place. After pulling off the remarkable victory, he has officially now won over $10,000,000 dollars in just the current season. This collection of wealth was created not only by his 1st place finishes but also his seven top 10 finishes.
     Not only did Scheffler pull off the win, he did so in commanding fashion with him having a 5 stroke lead on Rory McIlroy entering the final hole at an impressive -12. As the nerves of the biggest stage mounted his performance seemed slightly affected. Scheffler even displayed a sense of shock by holding his hand over his mouth after missing a "gimme" put. As a result on the final hole, Scheffler surprisingly finished with a four put and concluded the tournament with a -10 and 3 stroke lead to secure the win on the Augusta, Georgia staged. As the crowd roared, Scheffler was embarrassed by his wife Meredith during this picture perfect moment filled with emotions. After the unorthodox victory he admitted his fear entering the final day, "I cried like a baby," he said. "I was so overwhelmed." Scheffler confessed he told his wife, Meredith, "I don't think I'm ready for this." Even with his doubtful mindset, the New Jersey native who entered the pro circuit in just 2018 is now the number one golf talent in the world, holding the 2022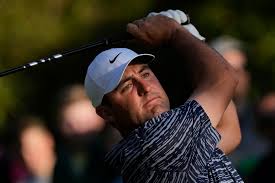 Masters title.